Study Centers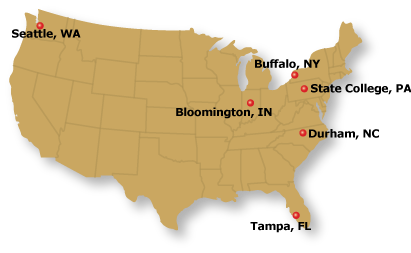 SHRP 2 Naturalistic Driving Study (SHRP 2 NDS)
…the largest coordinated safety program ever undertaken in the United States . . .
The Second Strategic Highway Research Program (SHRP 2) was established by Congress to investigate the underlying causes of highway crashes and congestion in a short–term program of focused research. The objective is to identify countermeasures which will significantly improve highway safety through an understanding of driving behaviors. The study will incorporate approximately 3,100 drivers in six states throughout the United States.
Importance
This research agenda comes at a critical time in the history of our nation's surface transportation safety. Specifically:
The United States was, for many years, the safest place to drive in the world. However, in terms of fatality rate, the United States dropped to 2nd in 1995, 9th in 2003.
Because vehicular crashes do not discriminate by age, they constitute a leading killer based upon years of lost life. For example, newly–licensed teen drivers, America's future, are three times more likely to be involved in a fatal crash than their older counterparts. They are also more likely to die in a car crash than all other sources of disease and accidental injury combined.